The Muddy Sneaker Trail Race
As Featured in

Life in the Finger Lakes magazine
---
Most runners who make the leap from race participant to race organizer feel fortunate to survive the first attempt with their nerves intact and no major disasters on their hands. Six months after the 2000 Muddy Sneaker 20k, held in the rugged Hi Tor Wildlife Management Area near Naples, NY, first-time race directors Mort Nace and Tim Ratowski found their event featured in Runner's World magazine as one of the five best trail races in America.
The pair met while working at a running store in Rochester and soon discovered a mutual love of trail running in wild places. Their first joint outing served as an early warning of things to come: They decided to run the Pike's Peak Marathon. Since the directors of this event won't allow anyone to enter without having run at least one prior marathon and Tim had never attempted this distance before, he was forced to get a marathon under his belt quickly with little training. He entered a small local marathon that took place on the same day that Oprah Winfrey ran the Marine Corps Marathon. His finishing time was slower than Oprah's but finish he did. He and Mort then struggled through the Pike's Peak Marathon, beginning a series of long distance trail races they would run together all over the U.S.
In April of 1999, Mort and Tim ran the Michigan Trail Marathon together. After a grueling 26.2 miles of trail running they piled into Tim's van and began the trip back to Rochester. To pass the time during the long drive and to help stay awake after the fatigue of the marathon, they talked about what they thought would make the best trail race possible. The distance, the terrain, the location, on-course support, post-race festivities, prizes and awards; no issue was overlooked. The idea for the Muddy Sneaker 20k was born. And for eight months nothing else happened.
It wasn't until December that they actually started to pull the scheme together, even though they knew the idea of planning, organizing, promoting and carrying out a race like this in the space of four months (they'd set a mid-April date for their still-hypothetical event) was foolhardy. After pouring over topographical maps looking for suitable terrain they found the High Tor Wildlife Management Area, a rugged region of steep hills, gullies and gorges carved by glaciers thousands of years ago. Now heavily forested and criss-crossed by dozens of mountain streams, it's undeniably beautiful country, but more the kind of place where you expect to see backpackers in heavy hiking boots than runners in lightweight trail shoes. Exactly what they were looking for.
The next, and much more difficult, job was convincing the Department of Environmental Conservation to grant them a permit for the event. The rangers who are responsible for the High Tor area were wary because of past experiences with mountain bikers and other groups who had staged events with little preparation or organization, sometimes without even attempting to get a permit. Mort and Tim's advance preparation and clear plan were enough to convince the DEC to give them the benefit of the doubt, but the rangers were still a little skeptical before the first race.
Other bureaucratic ordeals followed, like getting insurance, cajoling sponsors and promoting the event. All of this had to be done on a budget of.well, a budget affordable to two guys who work in a sporting goods store. That means very little indeed. Mort says he found the setbacks and the hard work of making this race happen were a lot like running the Pike's Peak Marathon. "Everyone says you can't do it", he says "and that just makes you want to do it more."
Eventually it all came together somehow. Publicity was by word of mouth, via Internet message boards and race calendars in trail running magazines. The first Muddy Sneaker attracted 67 runners (they even had a runner come in all the way from Boston) and got rave reviews from both the participants and the rangers of the DEC. This despite three runners getting lost and spending several hours running through the woods before being found.
For the second running 2001, Mort and Tim decided cap the entries at 125 runners, so as to limit environmental impact to the trails and the Wildlife Management Area in general (adequate parking was a big concern). They gave advance notice in December to anyone who had run the first event and opened registration to the general public in January. It was sold out by mid-February.
The participants come from all walks of life and include runners of all abilities. Scott Bagley, who qualified for the U.S. Olympic Trials marathon in 2000 and who has a 2:16 marathon on his resume, won the race in 2001. There were several other 2:30-2:40 marathoners (that is, very fast runners indeed) in the field. Most other entrants are of more modest abilities but the race offers plenty for all of them. It offers great scenery, one of the most challenging courses anywhere, the camaraderie of people who share the same spirit, love of the outdoors and sense of humor. Molly Huff, one of the runners who got lost in the first Muddy Sneaker, has nonetheless become a convert to trail running because of this event. "No cars, no artificial noise, no pollution, just beautiful bliss," she says.
Others are as attracted by the contagious sense of fun at the Muddy Sneaker. Stacy Vandenburgh, co-founder of a running group who call themselves the Slug Goddesses (motto: "speed kills") recalls passing by one of the water stations and being told "Go straight and turn left at the chicken!" Sure enough, a few hundred yards ahead at an intersection in the trail was a six foot tall guy in a chicken costume directing runners which path to take. No one got lost that year!

The sense of humor shows a definite diabolical streak when it comes to the layout of the course, though. "When Tim showed me the route he'd picked out I just laughed and laughed," recalls Mort, "Especially the last mile and a half, which is all uphill. There must be a 600-foot elevation gain in the first quarter mile of that section!" This final hill they call "The Demoralizer" because of the effect it can have on runners who have already covered more than ten miles of tough terrain by the time they reach it. It's not uncommon to see them walking the steeper stretches with hands on knees for support.
"This race isn't about running a personal record," says Mort, "It's for people looking for something different, who want to run and have fun." Not that the Muddy Sneaker isn't a competitive event for those serious runners who really want to test themselves, it's just that the competition is more about surviving the course and beating the clock than beating your fellow runners. The post-race party with a generous assortment of awards and prizes and an ample supply of food and drink (Saranac Black Forest is the unofficial "official" beer of the Muddy Sneaker) helps too.
Their formula seems to be successful. Their web site at www.roadsarepoison.com has drawn so much traffic that it's exceeded the monthly limit Geocities allows for free pages on many occasions and has been inaccessible for days at a time. (They'll be setting up a new web site this year). A runner who skipped the 2001 event because he was running the Boston Marathon the weekend prior announced afterwards that he'd made a big mistake and would henceforward pass on Boston to run the Muddy Sneaker instead. And in an age in which most races are struggling to scrounge every penny of support they can get, a major running shoe company recently contacted them and asked if they could help out in some way.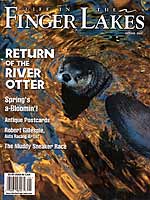 If any of this makes you want to try running the trails this April 20 with the rest of the Muddy Sneaker crew, I'm afraid you're going to have to wait: The 2002 Muddy Sneaker sold out in 2 weeks. Mort and Tim are contemplating expanding the field to 150 runners for next year, but they're pretty sure that's the upper limit for this race, both because of environmental considerations and in order to maintain the quality of the event. Their expansion effort will be directed into creating other unusual events, rather than making this one too big for its own good (in January 2002 they put on the first "Frozen Assets" 5k showshoe race).
But you've been served notice. If you want to run one of America's five best trail races in 2003 you can start training now and get ready to mail in your entry on January first. Plenty of time to prepare yourself for 12.4 miles of hills, mud and fun. Just remember to turn left at the chicken.
---
For your further enjoyment and edification:
• More articles about running (The "Junque Miles" column)
• More running photography (The Greater Rochester Track Club Exhibit)