Pentax Camera Information
Service manuals and such...
I use Pentax medium format and 35mm cameras and lenses for a lot of my photography.
Even though most of my shooting is done digitally now I still have a soft spot for my faithful Pentax MX (below). Made in the 1980s, it is a totally manual, completely mechanical, professional-quality camera (and there are still occasions when slide film, rather than digital, is appropriate).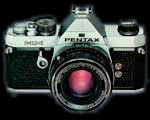 Support for older cameras is becoming harder to find; as the supply of good condition examples dwindles and their price goes up, repair and maintenance become more critical. To help owners of older, manual focus Pentaxes keep their equipment in good condition I am making service manuals available here at no charge.
Download the manuals by clicking on the links below. All I ask in return is that, if you obtain a service manual that isn't listed, you mail me a good quality photocopy so I can make it available to other Pentax users. This way we'll all benefit from the wider availability of this information.
OWNER'S MANUALS: Please DO NOT contact me about manuals for Pentax cameras or other products; all the ones I have are listed here. Owner's manuals are available from Pentax and from Pentax-manuals.com.